Tired of canceled classes?
We never cancel a class for under-enrollment. Your time is valuable and SMF Training respects that.
Register now
FYI
Food Safety Manager Certification is also known in Baltimore County as Level I training.
Private and Group Rates for Food Safety Manager Training to prepare you for the ServSafe Exam
Private Training Fee Schedule for 1 day training, add additional $400 training fee for 2 day training.
| # of Students | Training Fee | Student Fee | Cost per student |
| --- | --- | --- | --- |
| 12-35 | $0 | $95 | $95 |
| 5-11 | $400 | $65 | $105-$145 |
| 1-4 | $500 | $65 | $190-$565 |
If you are outside of the Baltimore Metro area there may be a travel charge assessed.
Group Rates for open enrollment classes
One day training - $125 per student for 5 or more students.
Two day training - $175 per student for 5 or more students.
Students can be scheduled over several different dates for your convenience. Payment arrangements must be made in advance and no refunds for no shows.
Computer exams are available at classroom with immediate results and same day printing of certificates. Results and printing for paper exams are available in 7-10 business days.
Call 410-687-1015 or
email us
to schedule a class.
Private Training for the Food Handler
Comply with new employee training rules. We can provide customized food handler training for your staff at your facility or ours.
We believe that the best training is specific to the employees tasks and we work with you to provide training specific to your staffs job tasks. Training usually takes 2 hours and can be followed up by a skills test if requested.
Why should you train your staff?
A few reasons why training your staff is good for your bottom line.
A foodborne illness outbreak can damage your reputation and cost thousands in attorney fees
Often improperly training staff will do things customers will consider "gross" or inappropriate and share on social media.
The average customer will tell 10 friends about a bad experience and 5 of those will tell their friends.
Only 8% of dissatisfied customers will complain. Leaving 92% of dissatisfied leaving your business with no opportunity to retain.
It is 6 times harder to gain a new customer than it is to keep a current one.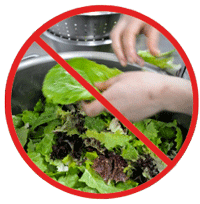 The 5 most common risk factors that can put your food and facility at risk:
Poor personal hygiene.
Holding food at incorrect temperatures
Not cooking food to the correct temperature
Contaminated equipment and surfaces.
Purchasing food from an unapproved supplier.
We train your staff in complying with the law but also recommended "best practices".