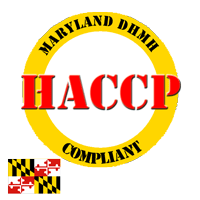 HACCP Plans for retail facilities in Maryland
Department of Health and Mental Hygiene (DHMH) has specific recommendations for creating a HACCP plan for Moderate and High Priority retail food facilities in Maryland.
We understand that creating a plan can be a complicated and time consuming process. Sue Farace, CP-FS has created 100's of plans for submission to local health departments. She also PCQI certified. When you hire SMF Training & Consulting for HACCP Compliance we work directly with the officials to get your plan approved. We make the process as easy as possible for you. Simply fill out the contact form and we will contact you within 24 business hours. We offer discounts to Non-Profit organizations.
A standard restaurant HACCP Plan includes:
Employee Training Program
Standard Operating Procedures (SOP's)
General Food Handling Information and Procedures
Priority Assessment
Hazard Analysis
HACCP Charts
Sample Logs and Schedules
We offer discounts to Non-Profit organizations.
Call our office today at 410-687-1015 or use the contact form to the right.