Top-Notch Food Safety Training
Tired of canceled classes?
We never cancel a class for under-enrollment. Your time is valuable and SMF Training and Consulting respects that.
Current Class List
| Format | Date |
| --- | --- |
| Two Day ServSafe Food Safety Manager | Tue 10/05 |
| One Day ServSafe Food Safety Manager | Sat 10/09 |
| One Day ServSafe Food Safety Manager | Wed 10/13 |
| One Day ServSafe Food Safety Manager | Tue 10/26 |
| Two Day ServSafe Food Safety Manager | Tue 11/02 |
If you do not see a class date that meets your needs please call Sue at 410-687-1015. We typically offer 2 day trainings the first week of the month and 1 day trainings weekly throughout the year.
Free 10 minute employee illness training video
Start the training HERE!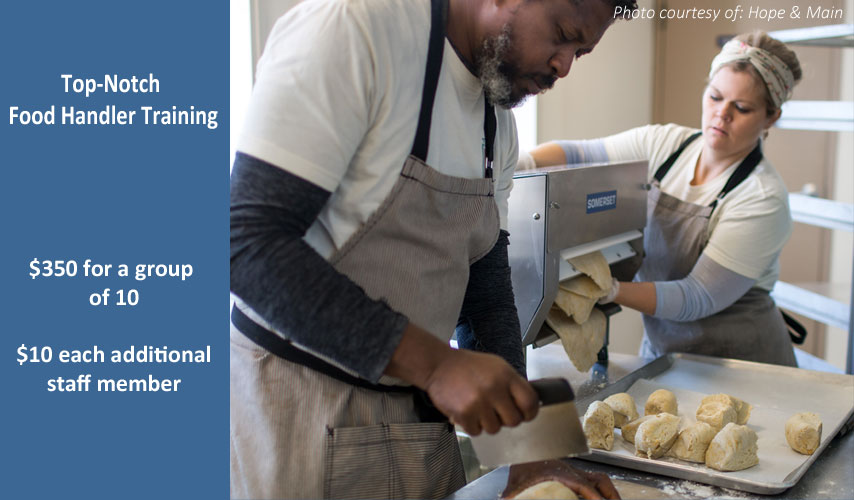 Top-Notch training will provide staff knowledge they need to provide safe food.
Why is practicing food safety important
How to handle food during the flow of food
What can go wrong and the cost to the employees and owners
How food handlers can prevent contamination of the food they serve
Allergens
Employee Illness
Not everyone is required to have the Manager level training and ServSafe certification, but all your staff must receive food safety training for the tasks they perform. In the past, I have offered the 2-hour food handler training and to be honest I never really felt like I was getting through to the staff. After being a food service owner for over 12 years, then teaching for 10 years, and providing inspection services for over 7 years I have taken my experience and knowledge and created a staff level training that explains what typically goes wrong in retail and how staff can play a positive role in preventing mistakes from happening.
The training is 3 hours and can be held at your location or at mine. A self-graded exam will be provided to test the student's application of knowledge.
Cost for general training is $300 for first 10 students and $10 for each additional student. Course includes Top-Notch reference book and certificate of completion from SMF Training and Consulting.
Contact Sue at 410-687-1015 or by email to arrange for a private class or discuss options.