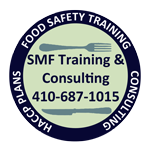 Maryland's choice for Food Safety Training.
Private Trainings at your facility
Open enrollment classes in our classroom located in Baltimore County
Top-Notch food handler training for your entire staff
Free and Ample Parking
We NEVER cancel for under-enrollment.
FREE E-Study Guide and Graded Pre-Quiz.
Computer Exam for immediate results
Paper Exam available upon request
Print ServSafe® certificate same day
A locally owned company providing excellent service since 2009.
With over 25 years in the industry, we have developed effective training methods. Our students leave our food protection training class with an understanding of what can go wrong in food service and how to protect food and customers from hazards. When you register for a class, be assured we will never cancel for under-enrollment
Comments
Great proctoring Sue,love the seamless execution of the test and your enthusiasm . Cheers -
Brad Brown,
---