HACCP - Hazard Analysis Critical Control Point
FSMS - Food Safety Management Systems
Have you been asked by your local sanitation officer to provide a HACCP plan and you don't know where to start?
Are you a small manufacturer not in compliance with FSMA and Preventive Controls for Human Food?
SMF Training & Consulting can help develop a comprehensive HACCP Manual or FSMS for your facility.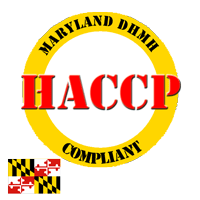 The 7 principles of HACCP
Conduct a Hazard Analysis
Identify Critical Control Points
Establish Critical Limits
Establish Monitoring Procedures
Establish Corrective Actions
Establish Verification Procedures
Record Keeping Procedure
Make a payment on account:
We can create a HACCP Plan for you
Sue Farace, CP-FS has created 100's of plans for submission to local health departments. She also PCQI certified. When you hire SMF Training & Consulting for HACCP or FSMA Compliance we work directly with the officials to get your plan approved. We make the process as easy as possible for you. Simply email your menu and we will provide you with a quote within 24 business hours. We offer discounts to Non-Profit organizations.
Call our office today at 410-687-1015 or use the contact form below.
Call our office at 410-687-1015 or complete contact form below